Introducing the all-new 2018 XC60. It's been completely redesigned to embrace you comfortably. Respond to you effortlessly. And enhance your total driving experience.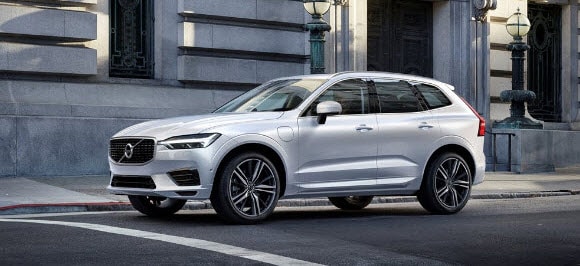 New comfort and safety technology
The new XC60, one of the safest cars ever made, is fully-loaded with new technology. Steer Assist has been added to the ground-breaking City Safety system. A new safety system called Oncoming Lane Mitigation uses steer assist to help mitigate head-on collisions, while Volvo's Blind Spot Indication System (BLIS) now uses Steer Assist functionality to reduce the risk of lane-changing collisions.
"We have focused on building a car that can deliver pleasure to all of your senses - from a commanding view of the road ahead in a beautifully appointed and calm cabin, to a safe, inspired and confident ride," said Henrik Green, Senior Vice President Product & Quality at Volvo Car Group. "We've paid particular attention to making life easier for our customers by providing them with the creature comforts and services that take the hassle out of everyday life."
Pilot Assist, Volvo's advanced semi-autonomous driver assistance system, which takes care of steering, acceleration and braking on well-marked roads up to 130 km/h, is available in the new XC60 as an option.
Performance
The new XC60 offers Volvo's award-winning T8 Twin Engine petrol plug-in hybrid at the top of the powertrain range, delivering 407 hp and acceleration from 0-100 Km in just 5.3 seconds.
 "We have a wide range of powertrains. The new XC60 will launch with the diesel D4 engine at 190 hp and the D5 with PowerPulse technology delivering 235 hp. We also have the petrol-powered T5 delivering 254 hp and the T6, which with both turbo and superchargers attached, delivers 320 hp and 400 Nm of torque," added Henrik Green.
But it is not just under the hood that the new XC60 delivers healthy performance. The new CleanZone four-zone climate system removes harmful pollutants and particles from outside the cabin to deliver Scandinavian-fresh air on the inside.
Volvo Cars' driver infotainment and connected services offer, Sensus, and the Volvo On Call app both receive a graphical update with improved usability. As in the 90 Series cars, smartphone integration with CarPlay and Android Auto is also available.
The all-new Volvo XC60 arriving fall of 2017. To receive all-new Volvo XC60 information, as well as other Volvo news and special offers, please complete the form below. Your information may be shared with our dealers. (U.S. residents only)


DISCLAIMER:  Foglights not available on all T8 engines. As a model year progresses, changes may occur in some of the specs, features, options and pricing. The manufacturer reserves the right to make such changes. Prices listed are Manufacturer's Suggested Retail Price (MSRP). Options may vary by region. See your Authorized Volvo Dealer for details. Colors, interiors and images of the vehicle are not a true representation of the actual colors and/or product. It's best to view the actual product at your Authorized Volvo Dealer. Dealer Accessories are defined as items that do not appear on the factory window sticker that are installed by a Volvo dealer. Actual prices for all accessories may vary and depend upon your dealer. Prices do not include installation or painting, which may be required for particular items. Please check with your authorized dealer for complete pricing accuracy for all accessories and parts. *Note for High Performance Summer Tires: The special tread compounds formulated for ultra high performance summer tires are optimized for maximum dry and wet performance in warm temperatures. The compounds in these tires will have decreased performance, such as lateral and braking traction, at temperatures below 45° F or when driving on snow or ice. In addition, they can lose flexibility and may develop random surface cracks at very cold temperatures; therefore extra care should be used in handling tires. It is recommended to install winter tires in these lower temperature conditions. Please note that the Summary and PDF pages may show two or three wheels included in the build (the standard wheel and optional/accessory wheel) but only one set of wheels will be delivered with your Volvo.