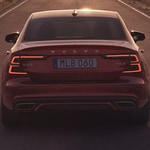 One of the hottest sedans on the market is known as the Volvo S60. This luxury sedan has an abundance of advanced features from cutting-edge technologies to high-end engine components. It's estimated that five people can sit in the cabin. The vehicle's exterior exudes Scandinavian styling, and its interior is pampered in Swedish luxury. Consumers can expect a 9.0-inch touchscreen display, smartphone integration, and leather seats.
The Volvo S60 comes in many trims, but its Polestar Engineered trim is a monster. Its powertrain is composed of turbocharging as well as supercharging. In addition to that, there's an electric motor. This plug-in hybrid powertrain will generate up to 415 horsepower. The Inscription trim offers a 2.0-liter engine that's turbocharged. This direct-injected engine will produce 250 horsepower and 258 pound-feet of torque. Front-wheel drive, anti-lock brakes, and drive mode settings are available.
Our reps are ready to give you a first-hand experience, so visit our location today.