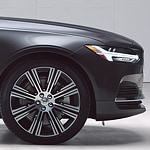 The exterior of the S90 includes a stunning grille with Thor's Hammer LED headlamps that provides a bold yet elegant aesthetic. The exterior also features full LED headlights, fog lights, and taillights for additional visibility in all lighting conditions.
In addition, the S90's exterior is designed to reduce wind noise as much as possible, making for a quiet and comfortable drive. The exterior also features chrome detailing along the sides and windows to enhance its sophisticated design further. For better aerodynamics, the S90 comes with spoke turbine wheels as standard.
To complete the look of sophistication, the S90 is equipped with power-operated side mirrors, integrated turn signals, and rain-sensing windshield wipers to ensure a clearer view of the road ahead. The 2022 Volvo S90 is an ideal combination of style, comfort, and safety, making it a great choice for those looking for a luxury vehicle. With its striking exterior design, high-end features, and impressive performance, the S90 is sure to turn heads wherever it goes.