About Us - Volvo Dealer Summit NJ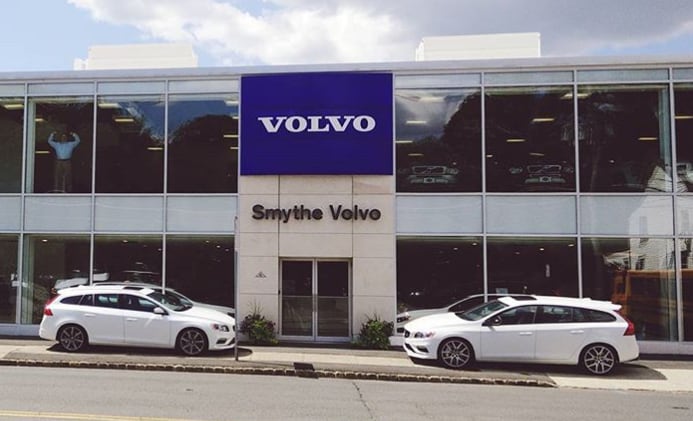 Why Buy From Smythe Volvo Cars
Thoughtful Amenities
Whether you are waiting for your vehicle to get serviced, picking up a part for your vehicle, or stopping by to check out a new vehicle for yourself, we offer a wide range of amenities to enhance your experience here! Come by, look around and check what we can offer you!
Smythe Volvo Cars was first started by the Flanagan family in 1966, and it continues to be family-owned and operated to this day. When the dealership was founded, Smythe Volvo Cars wanted to put customer service above everything else. That's why when our returning customers visit the dealership, they're greeted on a first-name basis by the same friendly faces who've helped them find their previous car. With more than 50 years of experience under our belt, we still continue to adapt to provide our guests with a unique experience.We share Volvo's brand values and we care about people and our environment.  That is why we implemented sustainable practices in our operations.
As a family business it is natural for us to care about people and the community we live/operate in.  In line with that we have many sustainable practices such as utilizing solar panels to power our facility.  Being able to give back to our community is something that we and our employees are proud of.  Some of the many organizations we regularly support are Overlook Hospital, Summit Fire Department, Morris County Adopt-A-Pup, and Madison High School.
Thanks to our relaxed, customer-first approach, Smythe Volvo Cars has been recognized and awarded for our efforts. We've received the National DealerRater Dealer of the Year Award eight years in a row, and we earned the Volvo Excellence Award numerous times. We simply owe these accolades to our continuing work in providing exceptional customer service to every driver who walks through our doors.
Whatever type of new Volvo car or used vehicle you're looking for, our goal is to help find you a vehicle that meets your needs without any unnecessary pressure or hassle. Instead, we want to give you all the details about the vehicle before you make the decision so you can be happy with the informed choice that you made regarding your next car. In our vast and versatile inventory, you'll be able to find performance-focused coupes, efficient sedans, family-friendly crossovers, and much more, all featuring Volvo's attention to minimalist detail, luxury design, and dedication to reliability.
Many of our customers enjoy the opportunity to meet their Volvo in its native Sweden. With our Volvo Overseas Deliver program, you embark on a Scandinavian vacation and have an opportunity to drive your new car around the country, or throughout Europe, as you take in the beautiful scenery. After that, your vehicle will be shipped to you, and you'll meet it back home in New Jersey.
While driving around in a stylish and efficient Volvo can be an exhilarating experience, in order to get the best results with your vehicle, you may want to keep up with routine maintenance. At Smythe Volvo, our service department is here to help you keep your vehicle in its absolute best shape. You can schedule service for maintenance or repairs, and you can rest assured knowing that qualified Volvo technicians will take great care of your vehicle to ensure that it's receiving the best treatment possible.
Not only can you expect expert maintenance, but there are also a few surprises that you'll appreciate. We offer valet pick-up and drop-off, so you can stay cozy at home while your vehicle gets the right attention. We even offer a car wash with every service, so you can enjoy a sparkling clean vehicle that's performing at its best.
We want to help you in any way we can. Please contact us with any questions, and visit the dealership when you're ready to take a test drive! Serving Westfield, Union, NJ, Newark and Scotch Plains, NJ.

Find Your Perfect Car and More at our Volvo Dealership Serving Summit, Westfield, NJ, Union, NJ, Newark, NJ and Scotch Plains, NJ
Here at Smythe Volvo Cars, we always strive to ensure that you enjoy the best car-shopping and dealership experience of your life. We make that possible by offering a vast collection of cars, straightforward financing options and expert car care services. That's why it only makes sense to turn to us for everything related to Volvo near Summit, Westfield, NJ, Union, NJ, Newark, NJ and Scotch Plains NJ.
We welcome you to visit our nearby location to browse our enticing selection of new Volvo models. If a car catches your eye, we'll be happy to arrange for a test drive in a new Volvo XC90, Volvo XC60, Volvo S60, Volvo S60 Inscription or Volvo S90. Once behind the wheel, you'll come to understand how Volvo has distinguished itself from competing brands. And, we always have the perfect new car in stock whether you're seeking thrilling performance, family focused comfort, innovative tech features or all of the above!
You'll always get more car for your money when you choose to drive a Certified Pre-Owned Volvo model or top-quality used cars. There's never been a better time to drive a pre-owned vehicle given the long lifespan of cars these days. At such affordable prices, you'll have no trouble securing an unbeatable deal on a used vehicle at Smythe Volvo Cars.
We'll not only help you find a new ride but make sure that you receive the best possible deal on your next car. Our Auto Finance team always makes it simple and easy for you to obtain a low interest loan or competitive lease rate. We'll also develop a personalized auto financing solution that fits perfectly into your budget. With our assistance, you'll be hitting the road in your new before the day is done!
If you value superior quality and exceptional service, then our Service and Parts centers are the destination for your maintenance and repair needs in Summit, NJ. We're equipped to provide the full scope of automotive services from major repairs to maintenance procedures like oil change, brake repair, tire rotation and alignment, battery placement, state inspection and beyond. Schedule a service appointment online to keep your car safely on the road for many miles to come!
At Smythe Volvo Cars, our goal is to make the process of buying and maintaining your car as smooth and efficient as possible. If you're ready to learn more about out automotive services, follow simply directions to our dealership in Summit where we'll be happy to arrange for a test drive and answer any questions you may have!