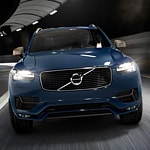 The 2022 Volvo XC90 is packed with performance features that make it stand out from the competition. From its powerful engine to its innovative suspension, the XC90 has everything you need for a dynamic driving experience.
Under the hood, the XC90 comes equipped with a 2.0L 4-cylinder turbocharged engine that is available in three powertrains. The T5 powertrain gets 250 horsepower and 258 pound-feet, which powers its front-wheel-drive and all-wheel-drive systems. This engine is paired with an 8-speed automatic transmission for smooth shifting and efficient performance. The T6 powertrain gets 316 horsepower and has a fuel economy of 19 miles per gallon in the city and 27 miles per gallon on the highway. The T8 electric all-wheel-drive hybrid powertrain combines the standard engine with an electric motor and outputs 400 horsepower.
The XC90 also features a unique suspension setup that uses air springs, dampers, and stability bars to smoothen the ride. The Dynamic Chassis System allows you to adjust your ride height and customize the damper settings for different conditions.