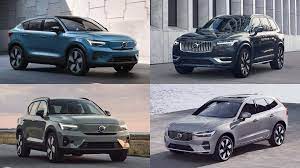 What You Need to Know
So, you're looking for a used Volvo-but don't know where to start? We think Smythe Volvo is one great place to go!
Shopping for used cars is a great, cost-effective way to handle the car-buying process. There are things you'll want to know, however, and we are here to help you. Here at Smythe Volvo, we have a selection of pre-owned (and new) Volvos to choose from, and we are happy to assist you with selecting the right vehicle for you. Read on to learn more about what types of questions you should be asking while shopping from a pre-owned selection.
Are there service records available?
You will want to know what the service history is on a vehicle before purchasing. There should be records available so you can see if the car has been serviced regularly and better determine what type of condition it is in.
Has it been in any accidents?
While accidents may be available on the history report, it's not always guaranteed. It's useful to know how the car was potentially damaged, and in turn, how it was fixed.
Can I test-drive the car?
You will want to test drive the car yourself before purchasing it. This should be standard practice for all car purchases, but it is especially important for used cars. If you are interested in buying a used car from Smythe Volvo, schedule a test drive today!
Does it have any special features?
If you're looking for a car with particular features, you'll want to make sure you're not settling for less. Ask whoever is assisting you for the specifications you're looking for, and you may even be able to get more bang for your buck than you think. It's always good to know what your options are.
Does the car have any recalls?
While Volvo cars are one of the car brands with the least number of recalls, this is still an important question to ask. A car could be recalled for a number of reasons, and it's important to know if a car was recalled, and why. This will help you determine if that particular vehicle is suitable for your needs or not.
Is the vehicle under a warranty?
Your dealership should have this information on hand. It's beneficial to know if the car is covered under a warranty, as it could limit further coverage costs. Don't forget to ask your salesperson this question!
Luckily, Volvos have a reputation for being very reliable. At Smythe Volvo, we believe that we live up to the standard the company has set, and we think you'll agree. Buying used cars doesn't have to be scary when shopping with us. Our expert staff looks forward to helping you with the car buying process, and beyond. We know the importance of maintaining customer relationships and hope that our customers will continue to visit us for regular maintenance and repairs. We can't wait to meet you (and neither can your next Volvo)!