At Smythe Volvo, we want to make sure our drivers in Summit, Plainfield, and Westfield know all the details when looking to purchase a new vehicle.
That's why we provide our Volvo reviews, so you only have to go to one place to get all of the information you'll need on the specific model you're interested in.
All you have to do is find your desired model on this page, click on the link, and you'll be taken to a new page that will give you the full run-down on your potential new car.
So, let's get started! Check out the review for your desired model on this page, and then contact us at Smythe Volvo to learn more! 
Volvo V60 Cross Country Review
Why Are Volvo Reviews Important?
Research is one of the key factors when starting to look for a new vehicle. You'll want to know what's what in terms of everything your car of interest comes with-and we've provided it all in one stop for you.
With our reviews right here, we've already done all the research for you. You'll be able to narrow down the vehicles you're interested in to maybe just one or two, and we can have them ready for you to test drive at our showroom.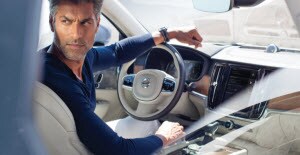 What Will I Find In These Volvo Reviews?
In our vehicle reviews, you'll find specifications of our models, such as technology and safety features, and power and performance ratings. You'll get a look at the inside of your specific model and find out what it feels like to be behind the wheel of your potential chariot.
Whether you're looking for more information on the XC60 or the S90, we'll give you the low-down in each review. You'll find out which vehicles are more suited for your lifestyle, making your decision process easier.
Learn More About Your Favorite Models!
Once you've decided on the model that peaks your interest, you can then find out how to schedule a test drive and see for yourself what your potential next vehicle is all about.